MUJERES, COOPERATIVISMO Y ECONOMÍA SOCIAL Y SOLIDARIA EN IBEROAMÉRICA
Women, Cooperativism and Social and Solidarity Economy in Ibero-America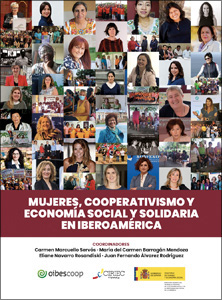 The book has been produced by a working group made up of experts from the OIBESCOOP Network from 14 countries, coordinated by the president of OIBESCOOP, Carmen Marcuello (University of Zaragoza, Spain); María del Carmen Barragán (Autonomous University of Guerrero, Mexico); Eliane Rosandiski, (Pontificia Universidade Católica de Campinas, Brazil), and Juan Fernando Álvarez (Pontifical Javeriana University, Colombia).
Objective: to recognize the work carried out by different women or groups of women based on their impact and influence on cooperativism and the Social and Solidarity Economy in the different territories of Ibero-America, both in the profesional field and in research, entrepreneurship or project leadership.
The different chapters present the studies carried out for Argentina, Brazil, Chile, Colombia, Costa Rica, Cuba, Ecuador, Spain, Honduras, Mexico, Paraguay, Peru, the Dominican Republic and Venezuela.
The full book can be downloaded HERE