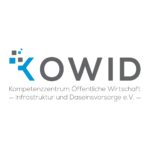 Das Kompetenzzentrum Öffentliche Wirtschaft, Infrastruktur und Daseinsvorsorge e.V.
Augustusplatz 10
04109 Leipzig
Germany
Contact person :  Oliver Rottmann  (Email : rottmann@wifa.uni-leipzig.de )
KOWID is a Competence Centre for Public Economy,  Public Infrastructures and Services of General Interest. The Centre's networking concept is reflected not only in the interdisciplinary exchange between scientists, but also in the sustained interaction with actors from business, politics and administration.
KOWID acts as a scientific institution in this range of topics with a high practical focus. Here, actors from science and practice work closely together to analyze constructively, but not uncritically, the role and importance of the public economy and infrastructure, as well as to make these findings available to a broad public through publications, events and teaching programs.
KOWID is an interdisciplinary association in the form of a non-profit association of currently 16 professorships and institutes, which deal with issues of infrastructure research in a scientific and practice-oriented manner.
The professorships and institutes of the center encompass the disciplines of economics, jurisprudence, infrastructure development, political science, health economics, pedagogy and administrative sciences.
The center was founded in 2009, has been organized as a non-profit association since 2012 and is based in Leipzig.
Research themes:
Public Economics
Smart City
Urban Mobility
Public Management
Public Finance
Circular Economy
2020-2022 Events:
Future of Infrastructure Development (Leipzig)
Central German Energy Talks (different cities)
Austrian Association of Cities (Villach/Austria)
Conference of public subsidies (Leipzig)